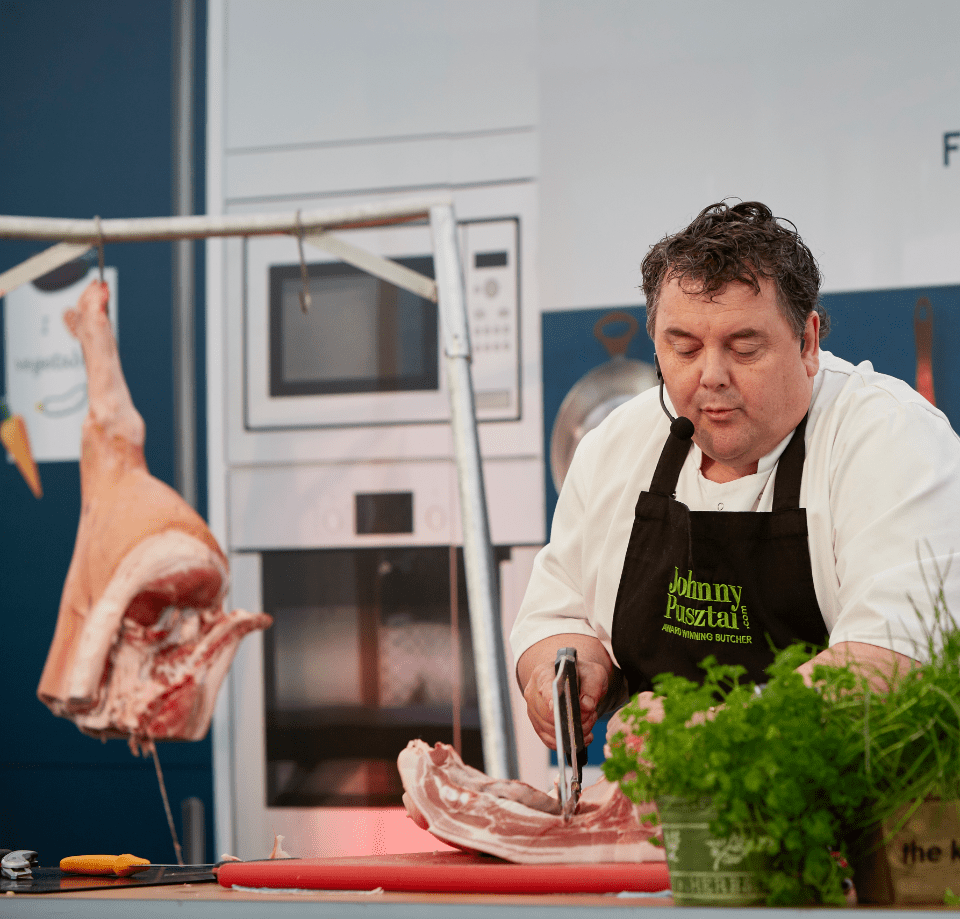 Johnny Pusztai's
The Snobby Butcher
Bistro • Demonstrations • Events
Johnny's years of experience and passion in food have lead him to become an expert in his craft.  Whether you call in to the shop or go along to one of his demonstrations at food festivals, colleges or events he'll be happy to impart his knowledge and tips for getting the best cuts of meat and fantastic flavours for your own home recipes.
If you have a requirement for Johnny to demonstrate or attend an event, please send him an email at:
Johnny@johnnypusztai.com
and he will be in touch to discuss your requirements.
Demonstrations by
Johnny Pusztai
Our demonstrations give you a unique opportunity to watch the master butcher at work, expertly crafting burgers, sausages and more.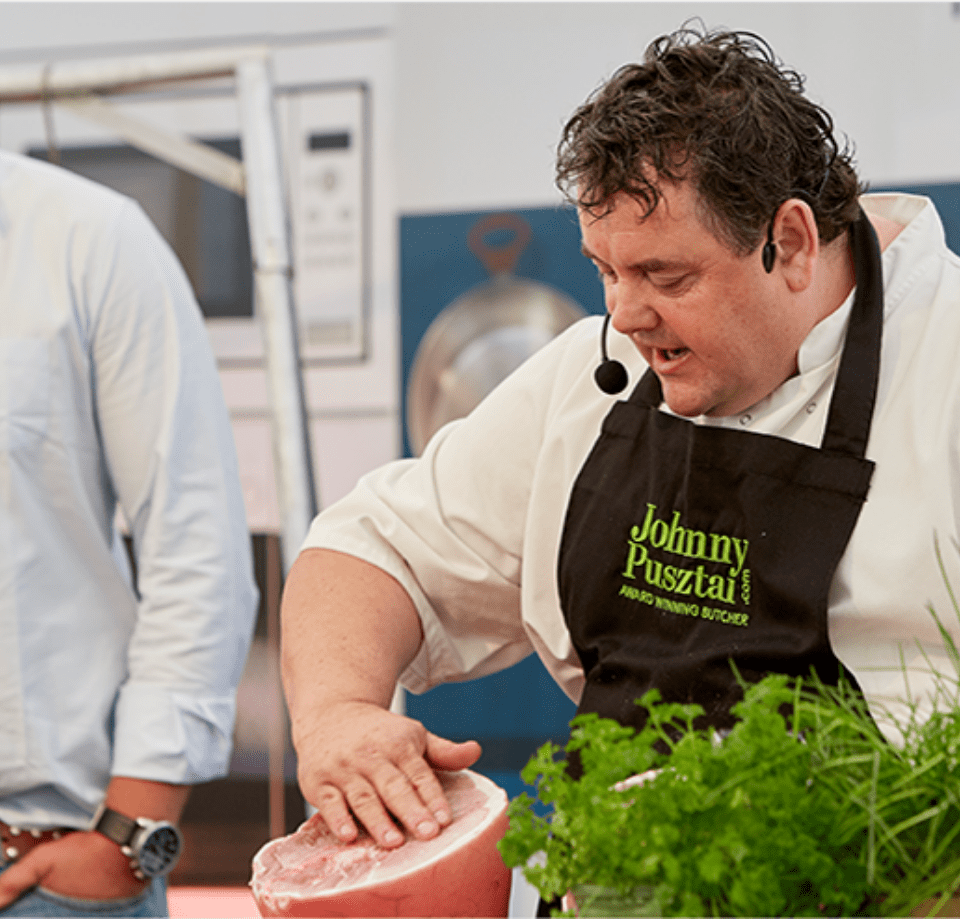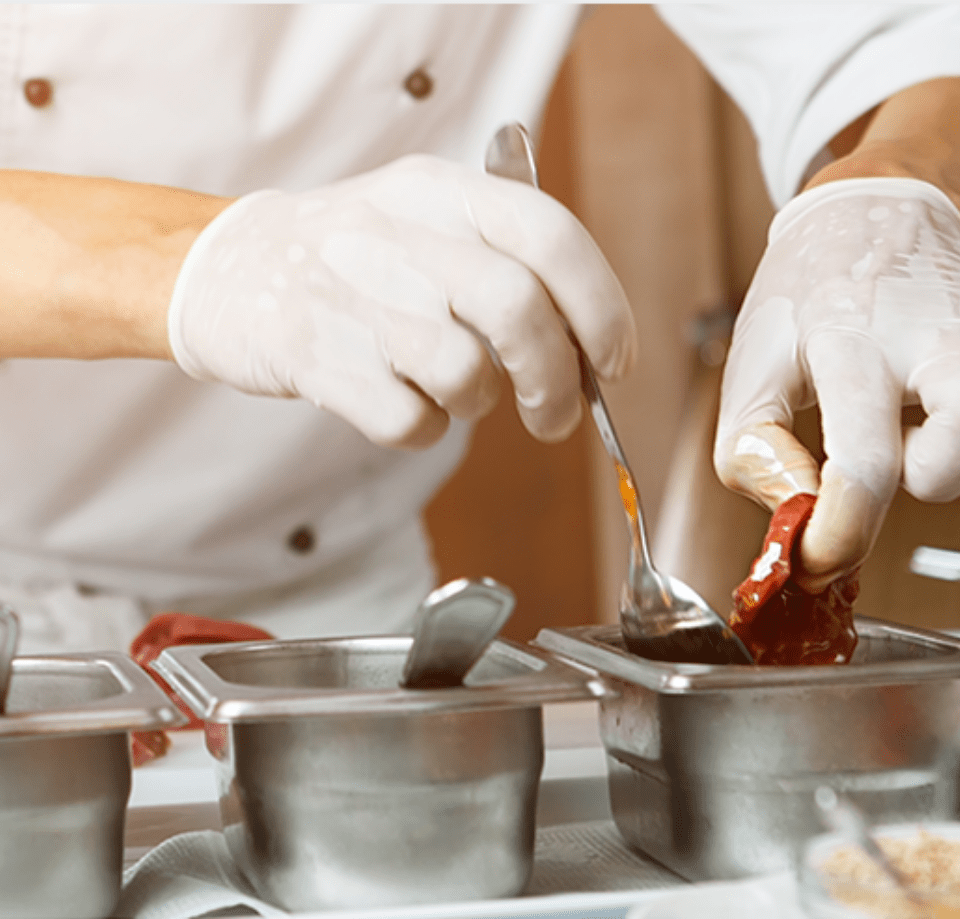 Book your event
Catering & Hog Roasts
Catering for a group of friends can be very stressful, even though you may be good at it. When the time arrives, you wish someone else was there to do the cooking! Now help is at hand - Snobby Butcher is the very service you have been looking for: catering for everything from small private parties to larger events such as weddings, fetes or other social occasions.
For your barbeque you may choose from our exclusive range of products, which are made with only the highest quality locally farmed meats. We also cater for vegetarians and tailor dietary requirements to each event.
We offer a complete package including a choice of salads, cutlery and waitress service if required. Johnny is happy to offer his expert advice and do everything possible to meet your requirements and to make your event a special occasion.
Testimonials
Winning Credentials
"Thank you so much for making our Silver Wedding Anniversary a day that everyone will remember.
All our guests really enjoyed the food provided and thought highly of the cooking and presentation."
Describing our air dried Hungarian Kolbasz, Gary said: Sensational flavour from those meats, texture like I have not experienced before. (Local Food Hero 2007)
Johnny the butcher is an amazing guy.
Johnny Pusztai is a ham-curing, bacon-smoking, sausage-making force of nature.
Johnny is a highly skilled butcher of the old guard. His knowledge and passion for his subject is unsurpassed.
"I cannot recommend BBQ Unique enough. From the initial meeting to the professionalism with a smile on the night - it was fabulous. The quality of food was superb."
"The range of food was generous in quantity and of an exceptionally high quality. Prepared, cooked and served by a fabulous team. I cannot recommend you highly enough."
"I would like to thank you for making our wedding barbeque a very enjoyable and hassle free day. The service we received and quality of food was exceptional."
"The standard of food produced was excellent, not only the meat products but also the ancillaries such as salads, breads and sauces... your staff were a credit to themselves and your enterprise."
"Thank you for a fantastic barbeque which was enjoyed by all the consultants, doctors, nursing staff and secretaries of the department. The food was wonderful and the service was excellent."
"A huge thank you for the unbelievable barbeque you presented. The way you coped with 90 guests was marvellous and extremely professional. The food was top class and no-one was kept waiting at any time. We received many, many thanks from guests to pass on to you. We look forward to using you again."
"The quality and presentation of food, coupled with the enthusiasm of your staff are a compliment to yourself."
"Thank you very much for the excellent barbeque you provided for my fiftieth birthday. Your wide range of homemade products was a huge difference."
"As always the service, quality of food and entertainment by you and your team was fantastic."
"The service we received was excellent and I have no hesitation in recommending you."
For Johnny, television appearances are nice, but the biggest part of the job is still what happens behind the counter in Sherwood. He didn't get to be butcher for Nottingham's only Michelin-starred chef, Sat Bains, by going on television.
Thank you for providing the catering for our networking event. As always the quality and variety of the food was excellent. The service provided by your team outstanding.
Thank you for the wonderful job you did at the Paul Smith Summer Party. Not only was the food absolutely fantastic, but the catering and bar staff were professional and fun. The attention to detail was spot on.
Previous
Next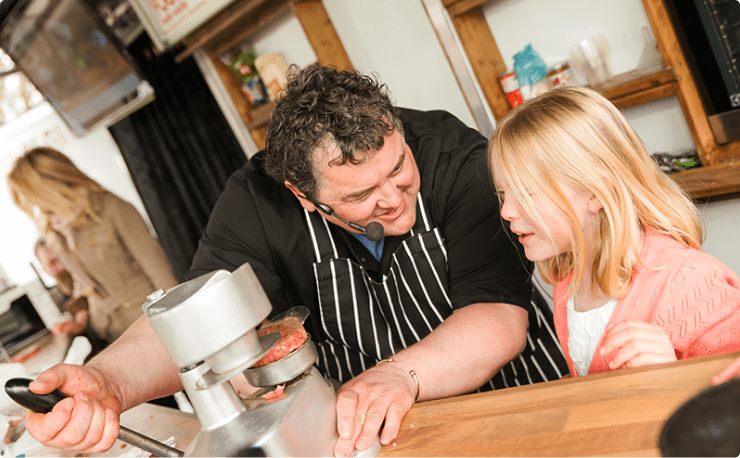 From burger making to steak and sunday lunch recipes,
we have a selection of mouth watering suggestions.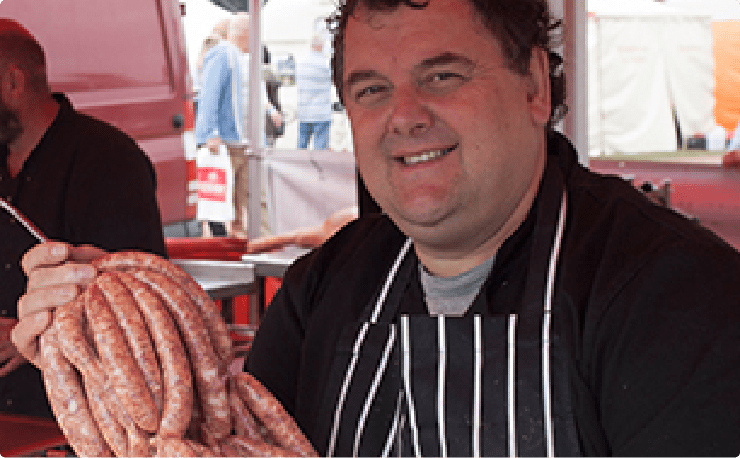 Read the latest news and events from Johnny Pusztai
and his team at The Snobby Butcher.