Event catering for private parties, weddings, events & special occasions
Catering for a group of friends can be very stressful, even though you may be good at it. When the time arrives, you wish someone else was there to do the cooking! Now help is at hand! Snobby Butcher is the very service you have been looking for: catering for everything from small private parties to larger events such as weddings, fetes or other social occasions.
For your barbeque you may choose from our exclusive range of products, which are made with only the highest quality of locally farmed meats. We also cater for vegetarians and tailor dietary requirements to each event.
We offer a complete package including a choice of salads, cutlery and waitress service if required. Johnny is happy to offer his expert advice and do everything he is able to meet your requirements and to make your event a special occasion.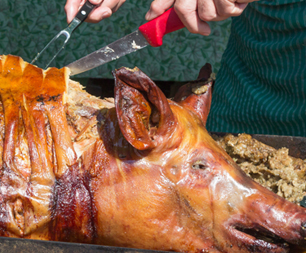 HOG ROASTS
Ideal for large gatherings, weddings and events, Our hogs are reared at Woodside Farm in Nottinghamshire, to ensuring the finest produce and best taste every roast.

Read our blog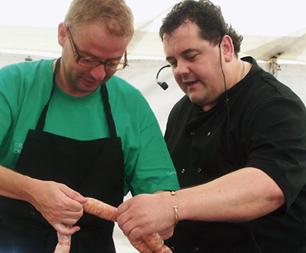 DEMONSTRATIONS
Our demonstrations give you a unique opportunity to watch the master butcher at work, expertly crafting burgers, sausages and more.

Read more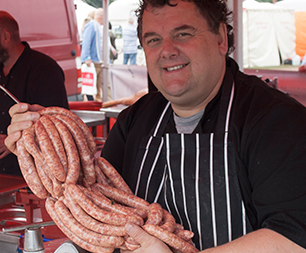 SHOWREEL
Experience the sights and sounds of BBQ Unique in our Youtube Showreel. For the mouthwatering tastes and smells, contact us to book.

See our movie
Events we cover:
Weddings, Christenings, Birthdays, Corporate & Business,
Schools & Universities, Funerals, Special occasions and more!
We will furnish the event with everything you need. As well as all the necessary food, we can also supply marquees, tables and seating, cutlery and plates. We can even arrange professional entertainers.
We will cater for any size event, all our staff are friendly and helpful and deliver a professional service.
You can leave it all to Snobby Butcher. It is our aim to create an event that you and your guests will remember.